Herman Joseph Heuser, D.D. (1851-1933) was a prominent Catholic intellectual and prolific writer who influenced scholarly circles and clerical life in the United States and abroad through his publications, including the  journal the American Ecclesiastical Review (1889-1975), which he edited for many years.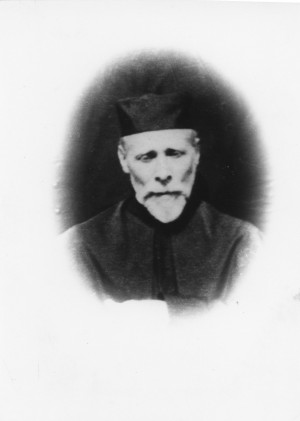 Along with editing the American Ecclesiastical Review, Heuser also organized and directed the Dolphin Press of Philadelphia, which printed many ecclesiastical works. From 1900 to 1908 he published the Dolphin, a general Catholic literary magazine that began as a book supplement to the American Ecclesiastical Review. In 1907, during the controversy over Modernism, Heuser was appointed by the Apostolic Delegate as general censor for all Catholic publications in the United States.
Heuser also acted as a consultant to religious orders. He helped to write the constitutions of the Sisters of Mercy, Merion, Pa., where his sister was for a time General Superior, and of Katharine Drexel's Sisters of the Blessed Sacrament.
He served as an adviser to the Pontifical Commission on Anglican Orders in 1896, and received an honorary Doctor of Sacred Theology degree from Pope Pius X.
This collection largely contains correspondence, both personal and professional in nature. A significant portion of the correspondence is between Heuser and prominent figures within the Catholic Church, including Cardinal James Gibbons, Archbishop Patrick J. Ryan of Philadelphia, Katharine Drexel, and Thomas C. Middleton. Other notable correspondents include Oliver Wendell Holmes, Jr., Princess Catherine Radziwiłł, and Leopold Stokowski. Some of the topics covered include Catholicity in Russia, church architecture, Catholic American Indians, and the religious aspects of the issue of vasectomy.
A significant amount of materials in the collection relate to Canon Patrick Augustine Sheehan of Doneraile, Ireland, specifically Sheehan's book, My New Curate; a story gathered from the stray leaves of an old diary, which appeared serially in Heuser's magazine. Items, such as drafts and research notes, deriving from Heuser's work with the American Ecclesiastical Review and the Dolphin, are also included. The collection also contains prayers, sermons, some genealogical information, and scrapbooks with miscellaneous materials.
Most of the materials in the collection are in English, though some are written in German, French, and Italian.
27 boxes, 10.4 linear ft.
Researchers will find it useful to use the more recent (html) finding aid in conjunction with the legacy finding aid, which includes item-level information.
View finding aid (HTML)
Legacy finding aid (PDF)
Form/Genre(s)
Geographic Name(s)
Name(s)
Subject(s)
Part Of