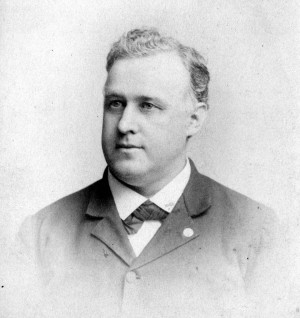 A prominent Catholic historian and Philadelphia native, Martin Ignatius Joseph Griffin was born in Philadelphia, Pennsylvania on October 23, 1842. His parents, Terence J. and Elizabeth (Doyle) Griffin, were immigrants from Ireland. He was educated in parochial and public schools and began his journalistic career as a contributor to Catholic newspapers. Widely known as a church historian, Griffin authored many works dealing with Catholic history and was a frequent contributor to and editor of several magazines and periodicals, including The Irish Catholic Benevolent Union Journal, American Catholic Historical Researches and Griffin's Journal. He edited a Sunday School journal from 1867 to 1870 before serving as assistant editor to the newly established Catholic Standard and Times, the official Philadelphia diocesan newspaper, from 1870 to 1873.
Griffin founded the American Catholic Historical Society in 1884 and served as its secretary. He also belonged to several other historical associations, including the Friendly Sons of St. Patrick Society of Philadelphia and served as secretary for the Irish Catholic Benevolent Union. An energetic promoter, he organized Philadelphia's first youth's Catholic Total Abstinence Society and in 1872 was one of the founders of the Catholic Total Abstinence Union of America.
The Martin I. J. Griffin papers document the life, work, and research of Martin I. J. Griffin (1842-1911). This collection dates from 1842 to 1950, with the bulk of materials dating from 1870 to 1911, and contains mostly correspondence, research files, notes, clippings, ephemera, and assorted personal records. The clippings are organized by subject and deal principally with Griffin's research on the Catholic Church in America. Researchers should bear in mind that this collection contains materials which predate Griffin and also some materials which were created decades after Griffin's death. Additionally, it should be noted that the majority of the dates are approximations due to the fact that many of the materials contain handwritten dates that reflect the date of the subject and not of the document itself. There is also a significant amount of undated materials.
26 linear ft.; 61 boxes
Researchers may find it helpful to consult the more recent finding aid (HTML) in conjunction with the legacy finding aid (PDF).
View finding aid (HTML)
Legacy finding aid (PDF)
Form/Genre(s)
Name(s)
Subject(s)
Part Of