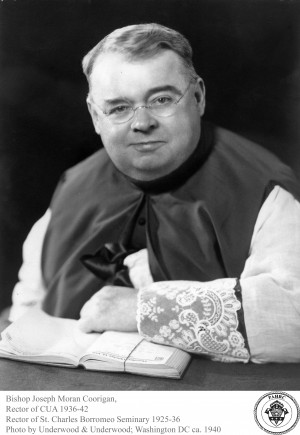 A prominent orator and preacher, Bishop Joseph M. Corrigan, D.D. served as the sixth rector of the Catholic University of America, Washington, D.C. from 1936 until his sudden death in June 1942. He was also rector of and a professor at St. Charles Seminary (Wynnewood, Pa.) from 1918 to 1936.
After his ordination in Rome in 1903, Corrigan returned to Philadelphia where he played a very active role in the city's religious and social affairs. He served as assistant pastor in several parishes, and for several years was in charge of the Madonna House and settlement work among Italians. Following his parish work, Corrigan was named Diocesan Director of Catholic Charities and was placed in charge of the Catholic Children's Bureau.
Corrigan was also a member of the board of directors of the Community Council of Philadelphia (the Welfare Federation). He served as state chaplain of the Pennsylvania State Council of the Knights of Columbus, and was also a judge of the matrimonial court and moderator of the priests' vigilance committee. Corrigan also served as the first retreat master of the Philadelphia Laymen's Weekend Retreat League, also known as the Men of Malvern.
The same year that he became rector of St. Charles, Corrigan was made a domestic prelate by Pope Pius XI. His elevation to the episcopacy came in 1940.
This collection contains correspondence as well as some of Corrigan's sermons, speeches, and radio addresses, and a few photographs. Much of the collection includes ephemera, specifically newspaper clippings, relating to Corrigan's endeavors and achievements, which are contained in several personal scrapbooks. Also included are materials concerning Catholic University, including a notebook documenting Corrigan's schedule during his time as rector as well as some items relating to Corrigan's involvement with the Knights of Columbus. Items relating to Corrigan's death, such as sympathy letters to his sister and newspaper clippings, are also included. [3 boxes, 3 scrapbooks, 2.6 linear ft.]
Form/Genre(s)
Geographic Name(s)
Name(s)
Subject(s)
Part Of