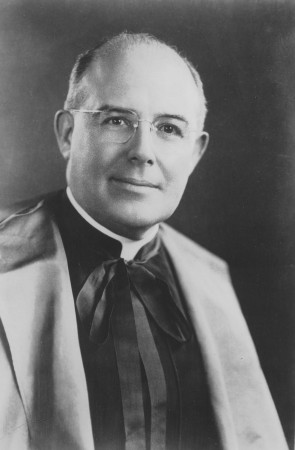 Superintendent of Schools for the Archdiocese of Philadelphia from 1926-1945, John J. Bonner is credited with establishing the Philadelphia Catholic League and was one of the best-known Catholic educators in the country.
Born in Philadelphia on November 2, 1890, John Bonner entered St. Charles Seminary after graduating from Roman Catholic High School. He transferred to the North American College in Rome, and was ordained there in June 1917.
Upon his return to the United States, he was appointed assistant rector of St. Bridget's Church (1917-18), left this post to serve as a U.S. Army chaplain (1918-19), and after his discharge from the army, was appointed vice rector of Roman Catholic High. Between 1923 and 1926, he served at St. Bernard's in Easton, PA, and taught at Immaculata College.
In 1926, Bonner was appointed Superintendent of Schools for the Philadelphia Archdiocese and remained in the position until his death on November 17, 1945. During his tenure as Superintendent, Bonner earned a nationwide reputation as an educator, orator, and administrator.
The documents in this collection consist mainly of correspondence, sermons, speeches, and prayers that Bonner amassed during his career as Superintendent.
6 boxes, 3.4 linear ft.
Form/Genre(s)
Geographic Name(s)
Name(s)
Subject(s)
Part Of